Pop culture and board gamers go together like bread and butter baby. It's because we're all just big nerds and we love movies, anime, video games and of course...BOARD GAMES!
And because I know there are so many pop culture lovin' peeps out there in the board game community - here's a handy list of great bits and pieces that fit the bill.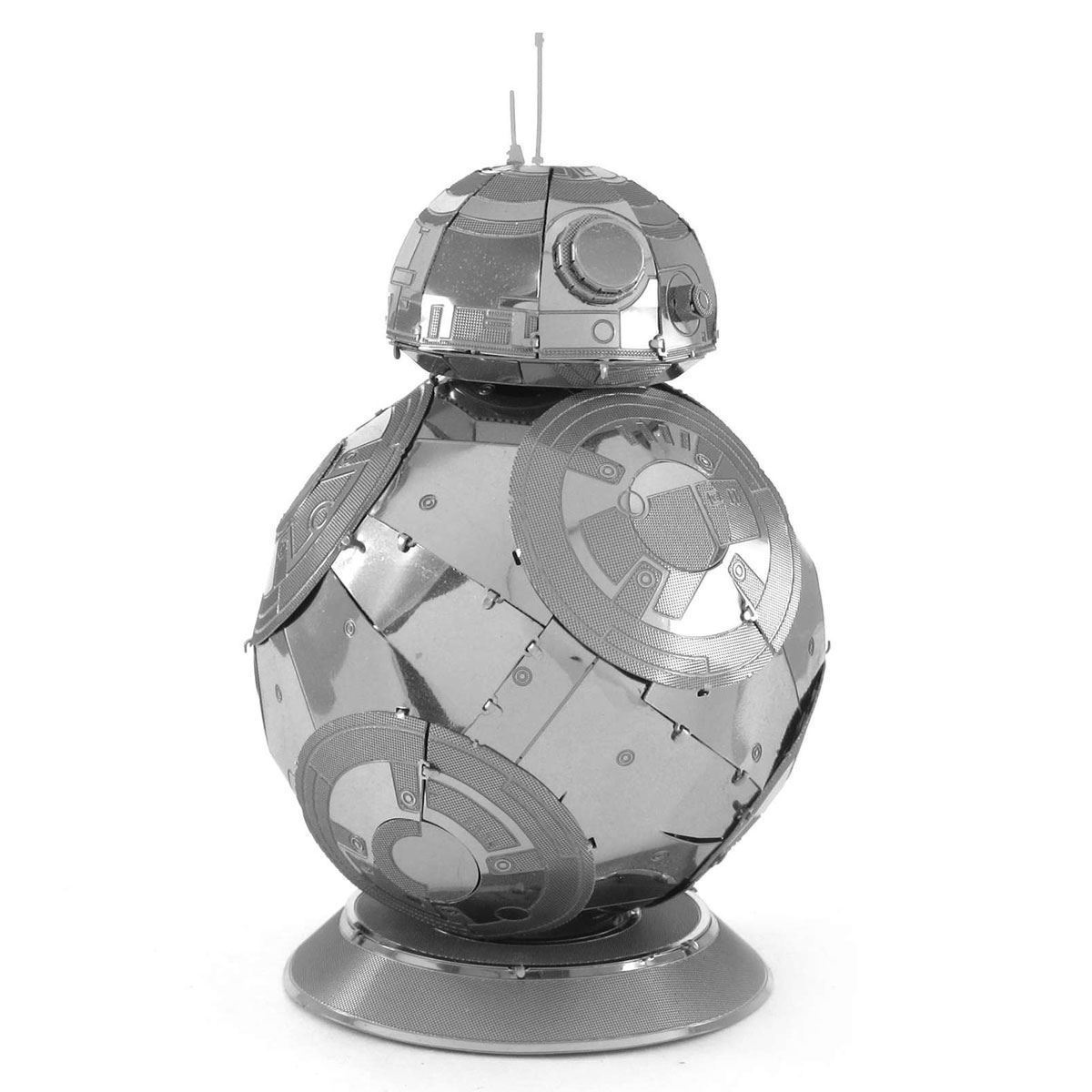 I know - model making sounds SO old fashioned. Model trains and airplanes. Sail boats etc. Metal Earth on the other hand has a WICKED range of metal model kits that are not only fun to put together but look great on display! And of course, the range of models is second to none with projects ranging from cars to animals to buildings and of course (as is the focus of this post) pop culture icons!
They cover a range of popular series like Transformers and Batman but probably their most extensive range is their Star Wars series. This features classic characters like BB-8, R2D2 and a bunch of spacecraft which look STUNNING in metal. 
I think I'm correct when I say EVERYONE has a Disney fan in their life. I don't know how they've done it (enormous amounts of money probably) but Disney has completely taken over the pop culture world. So if you have a Disney fan to buy for - I would recommend one of the GORGEOUS Ravensburger Disney Puzzles.
There are a range of beautiful scenes from classic movies, classic Mickey Mouse themed art or the Villainous series for those dark-hearted Disney fans.
There are also some real pretty 3D Crystal Puzzles of Disney favourites like Cinderella and Tinkerbell which are just too cute!
You know it. I know it. Marvel is huge. It IS technically owned by Disney after all. And with that comes a huge range of great Marvel themed games.
Now my top pick is 5 Minute Marvel because 5 Minute Dungeon (the game it's based off) is an absolute banger and that mixed with top Marvel characters is just out the gate.
But for more gamey gamers, I would absolutely recommend Marvel Champions. Its a fantastic deck building strategy game where you get to play one of a HUGE range of marvel Characters from Gamora to Ms.Marvel to Thor and more!
If you wanted to step it up even more, Marvel Crisis Protocol is a fantastic tabletop miniature game with another huge cast of available characters with really well-made minis for each one!
I mentioned Villainous briefly in the Disney Puzzles but the game itself deserves it's own entry. Villainous is the perfect game for any villain fan. Hades your favourite character? You just align with Yzma? Perfect!
We all know Monopoly. A solid classic which always ends in a fight. But did you know that there are a million different versions of Monopoly all based off of different popular franchises? Because there is. There are so many.
There are sets for fans of Supernatural, One Piece, Care Bears. Sets for Holden AND Ford lovers. Sets specifically aimed at sore losers and so many more.
Basically, if there is a franchise that your giftee loves - I can almost guarantee there is a Monopoly out there made just for them.
Much like Monopoly, this classic game has expanded to a range of bite-sized versions based on popular movies, video games and themes. 
It's always fun to show off how much you know about your favourite show or game and Trivial Pursuit is the best way to do so!
Codenames is a very popular game and for good reason - it is a great team-based party game. Whenever I have a group of 5 or more peeps over we play Codenames.
How does this relate to pop culture? WELL Codenames have released a number of games based on popular franchises! There is the Simpsons version, the Harry Potter version, Marvel AND Disney. So if you got a group of total fanatics, you need to pick one of these up. 
With the recent release of Dune in theaters (starring over-all good boi Timothée Chalamet) Dune has become super popular once again! You can tell simply by the amount of sick Dune games that've been released and announced in the last year.
My TOP pick is Dune Imperium - a genuinely great worker placement game great for Dune lovers or not. I actually didn't know anything about Dune until I played and now I want to read the book (although it's actually heavier than me, making it quite a task!) 
Another great choice is Dune House Secrets which has a much more story-driven vibe. Highly recommended for RPG players - even more so if you enjoy Dune of course!
Speaking of RPGs there's actually a Dune RPG that released this year. I haven't played it but considering the depth of the story, I can imagine it's a total blast!
Star Wars is massive. Not only is it super popular with a number of movies and spin off series released AND announced for the future BUT the extended Star Wars universe extends just insanely far. So what better franchise to turn into board games!
As expected, the three biggest Star Wars games are well...war games. At their core anyway. 
Star Wars Imperial Assault is a bit more dungeon crawley making it a great starting point if you want to get into these massive games.
Star Wars Armada is in the real tabletop miniature territory with some wicked ship minis and real fun space battles.
But Star Wars Legion is a TRUE wargame. Be prepared - this game is NOT ready to play out of the box but is perfect for Warhammer fans who love painting their minis and prepping their territory. 
There are a bunch of other great Star Wars games but these three are the true standouts!
I'll be honest, I never watched Friends. Sue me. BUT pretty much all my friends love Friends! And there seems to have been a real resurgence (did it become available on Netflix?)
But anyway there are a bunch of fun Friends themed games. 
Friends Monopoly is an obvious top pick because it's Monopoly and Monopoly is fantastic. There is also Friends Trivial Pursuit though which is PEREFCT for true Friends nerds who want to show off their knowledge. But where Friends shines is in the puzzles!
I know, I probably go on about puzzles a bit but the friends puzzles are really cool and definitely the kind of stuff you want to chuck on your wall - they're like posters that you make yourself!
So there you have it, my list of great picks for your pop culture lovin' pals! 
Of course theres a whole lot more in terms of pop culture themed games, just check out our collection of TV, Movie and Book themed games 
Until next time whānau
Ka kite <3